HARLEY-DAVIDSON + SHE DEVIL
Black Label + Womens
She-Devil Series
Hot on the heels of the success of the Mens
H-D
Black Label "Live to Ride- Ride to Live" series featuring the DEVIL character,
HARLEY-DAVIDSON
asked us 
to create a SHE-DEVIL character to complete the Womens Black Label Line. Stoked to oblige, we conjured up a Princess of Darkness- steeped in the fully vintage roots of
H-D
flavor and blazing in sell-through at retail...
For many years now, 

KUSTOM KULT

 has contributed to building the brand purpose and personality for the

HARLEY-DAVIDSON

Black Label line by supplying Design Direction, Trend Consulting and Artwork for apparel and accessories.
KUSTOM KULT

 continues to be focused on maintaining the authenticity of the brand experience but, for the Black Label demographic, venturing beyond
the "look and feel" of the traditional core

H-D

apparel and accessories.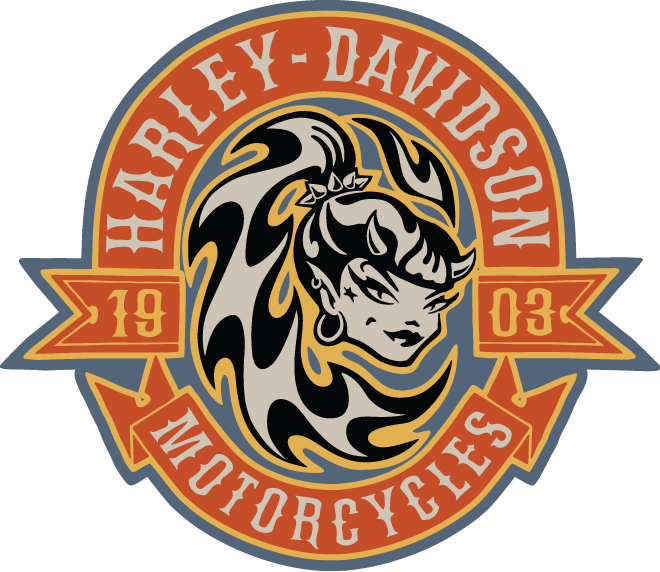 Since the first She-Devil resonated so well with the MKE tribe we were asked to conjure up a fresh interpretation of Beezlebub's "Ball-N-Chain" to ride once again. Hellaciously fast sell-through at retail made her another story of success in this fashion after-life. Props out to her stylist for the "up-do" and new fiery extensions...

NO CAGES for this hot-headed Demon-ess.
Get What's What From The Kult
You're all signed up- stoked and thanks!