And Forge Value Into Your Brand
 Brand ID, Logos, Icons, Kustom Lettering, Krazed Kreatures & Nutty Graphics
KUSTOM

KULT has seasoned expertise at crafting 
stand out graphic design.
Kustom Kult Founder: Dave Parmley
"The word Kustom is a Pavlovian bell to me. I have always been obsessed and stoked with anything creatively different. To be inspired and to care enough to meticulously hand craft, whatever it is, into something unique and to your personal vision is friggin' gold."
Trial By Fire: I am a seasoned veteran of the design world with roots deep in the Surf industry as Global Creative Director for O'Neill Wetsuits & Sportswear in Santa Cruz, CA. I went on to be co-founder of the lifestyle branding studio, 13THFLOOR, amassing heavy combat experience in endemic cultures within action sports, motorsports, entertainment and youth markets.
My obsession is to hand craft original & distinctively stylized design. My experience and expertise in my process will engage your tribe and set the work apart. This is the "Kustom" that will forge incredible value into your brand.
"The value of forging Kustom into a brand using hand wrought expertise is the heart & soul of Kustom Kult."
During my career I am honored to have been recognized by some of the world's most prestigious design organizations, including awards and recognition from the likes of HOW, Graphis, Print, Logo Lounge, Letter Cult, Alt, AltPick, Western Art Directors and The Addy Awards. My work has been published in a plethora of books, magazines and blogs and I have also co-authored & designed a nutty little alternative ABCs children's book.
Some of the clients we have had the privilege to partner with include 20th Century Fox, Bungie, Certain Affinity, DC Shoes, Disney, EA, Element, FOX Sports, Harley-Davidson, Hot Wheels, Mattel, MTV, NBA, Nike, O'Neill, Pepsi, UFC, Universal Studios, WWE, Warner Bros & X Games.
We craft our uniquely stylized work for alternative cultures within action sports, motorsports, entertainment and youth markets.
Brand Identity
Logos
Logotype
Product Logos
Product Line Logos
Product Graphics
Athlete ID
Hand Lettering
Kustom Typography
Font Design
Icons
Package Design
Style Guides
Apparel Grafix
Nutty Illustration
Brand, Service & Product Naming
Stoke Your Tribe Through Hand Wrought Design!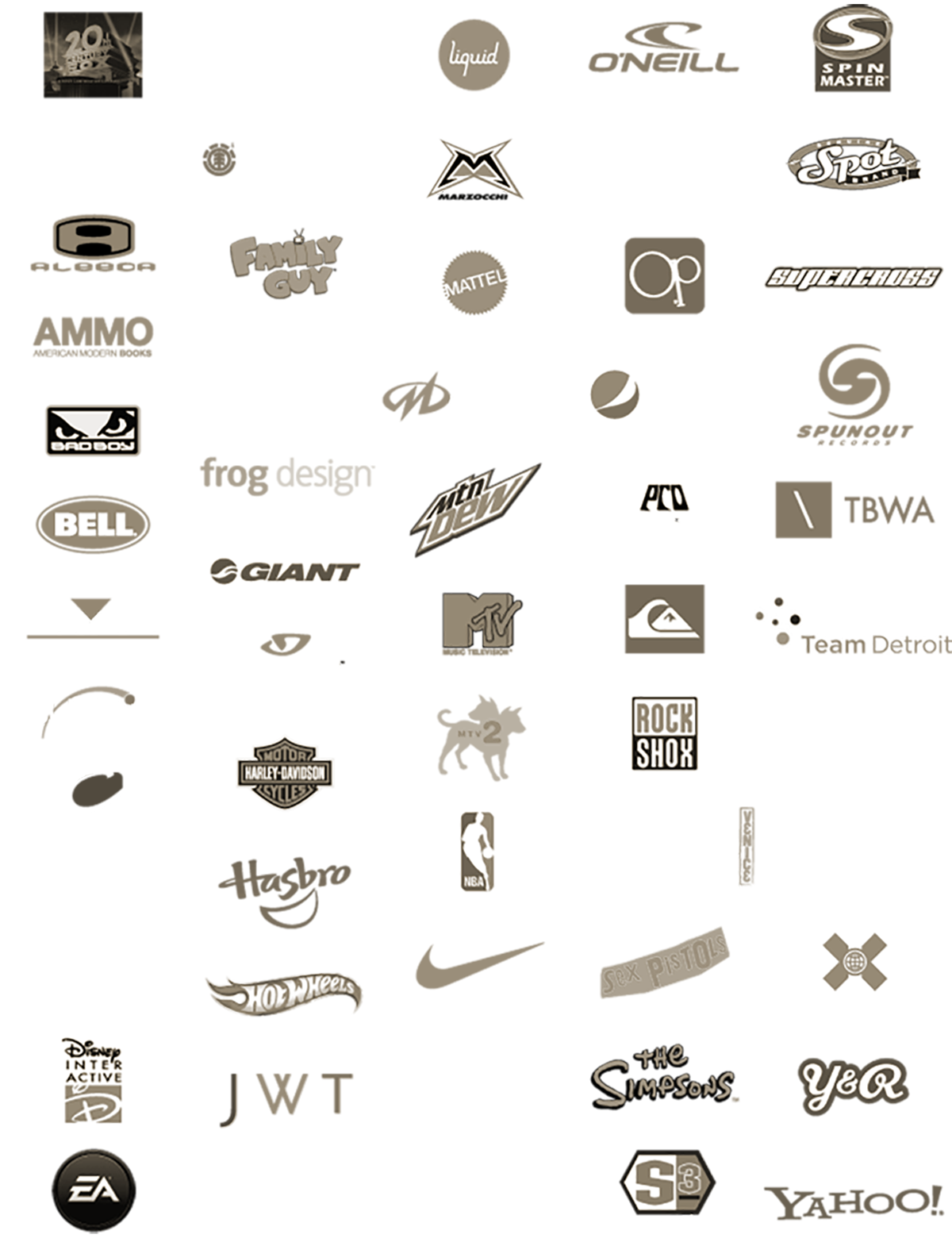 We're just as comfortable working directly with a client as we are with an agency.
ACTIVISION
AMMO BOOKS
ALEEDA WETSUITS
ART CRANK
BAD BOY MMA
THE BRAND FACTOR
BELL HELMETS
BMG
BRIAN SETZER ORCHESTRA
BUNGIE SOFTWARE
CERTAIN AFFINITY
CLEAR CHANNEL
CONNELY WAKEBOARDS & SKIS
CONVERSE
DISNEY INTERACTIVE
DUNCAN TOYS
EA
ELEMENT
FOX LICENSING & MERCHANDISING
FROG DESIGN
GIANT BIKES
GIRO SPORT DESIGN
GNARLY MAGAZINE
HARLEY-DAVIDSON
HASBRO
HOT WHEEL
iP2 ENTERTAINMENT
KEEP THE BITCH FLOORED
LI-NING
LIQUID AGENCY
LIVE 105 RADIO
MATTEL
McELROY FCB
MIDWAY GAMES
MIKE SALISBURY
MOUNTAIN DEW
MTV
NBA
NICK EGAN
NIKE
NIMRODZ
NXTZ
OAKLEY
OGILVY & MATHER
O'NEILL WETSUITS & SPORTSWEAR
OP
PACIFIC COAST POWER & LIGHT
PEPSI
PRO-TEC
QUIKSILVER
RETRO
ROCK SHOX
SEX PISTOLS (Nick Egan)
THE SIMPSONS
SABAN ENTERTAINMENT
SMASH MOUTH
SMITH, SMITH & SMITH
SPIN MASTER
SPOT BIKES
SPUN-OUT RECORDS
SUPERCROSS BMX
TBWA CHIAT/DAY
TEAM DETROIT JWT
TL PARTNERSHIP
TYCO
ULTIMATE FIGHTING CHAMPIONSHIP
UNIVERSAL STUDIOS
VIRGIN COLA
VIRGIN INTERACTIVE
WARNER BROS
WWE
X-96 RADIO
X-GAMES
YAHOO INTERNET LIFE
YOUNG & RUBICAM
ZOO / BMG RECORDS
Accolades
1, 2 & 3 COLOR GRAPHICS - Book
ACTION SPORTS RETAILER Magazine
ADDY - BEST OF DIVISION: Branding
ALT MAG - Feature
ALTERNATIVEPICK.COM - Featured Artist
ALTERNATIVEPICK.COM - Spotlight
ARTCRANK - Bicycle Art Show
BEHANCE - Illustration Curated Gallery
BEST OF BUSINESS CARDS DESIGN - Book
BEST OF BUSINESS CARDS 2 - Book
BEST NEW VIDEO GAME DESIGNS - Book: Packaging
BILLBOARD Magazine
CA - Photo Annual
COOL TRENDS Magazine
DESIGN IDENTITIES - Book: Corporate ID Feature
EFFECTIVE SALES CATALOG DESIGN - Book
EXPLORING TYPOGRAPHY - Book
GNARLY Magazine - Featured Artist
GLOBIE AWARD: Best World Wide Package Design
GRAPHIS Magazine
GREAT SPORTING GRAPHICS - Book
GREAT T-SHIRT GRAPHICS - Book
HOW MAGAZINE - Logos, Identity & Self Promotion
INC. MAGAZINE - Grand Prize Branding
LETTERCULT.COM - Type Design
LETTERHEAD & LOGO DESIGN 4 - Book
LOGO LOUNGE 3, 4, 5 - Book
LOGO LOUNGE MASTER BOOK 2, 3
LOGOLOUNGE.COM - Interview
LOGO WORLD - Book
THE NEW LOGO FROM CALIFORNIA - Book
NEXT GENERATION MAGAZINE - Best Game Packaging Of All Time
POSTCARD GRAPHICS 4 - BOOK
PRINT Magazine
PUBLISH Magazine - Branding Feature
UNIVERSITY OF BARCELONA - Graphics Exhibit
VIDEO GAME GRAPHICS - Book; Packaging
WESTERN ART DIRECTORS CLUB- Multiple awards

Get What's What From The Kult
You're all signed up- stoked and thanks!